The Decal Source Projects
TDS wraps Advance Auto Parts #88 Car
TDS Wraps the Kentucky Fried Chicken Ford
Driven by Cole Whitt, the #35 Kentucky Fried Chicken Ford was wrapped by The Decal Source, and driven in the NASCAR Sprint Cup Series Quaker State 400 at the Kentucky Speedway on July 11, 2015.
3M Safety Tractor
The 3M Safety Project involved wrapping a tractor and custom-built 53' trailer completely in reflective material as a display piece for the 3M Safety division.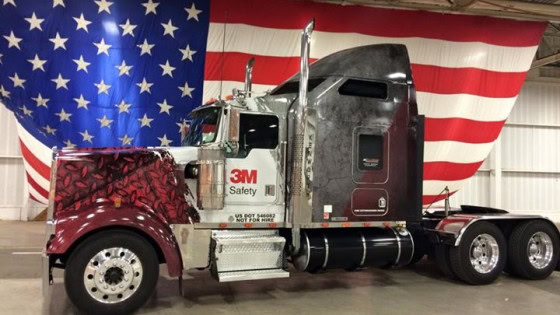 Daytona 500 Pace Car
Toyota Racing and The Decal Source kicked off the 2015 Daytona 500 with the all-new Camry featuring a full vehicle wrap from TDS.
Trans Am Series Corvette
This 2015 modified Corvette was driven by David Pintaric in the Trans Am Series. Graphics were designed, printed, and installed by TDS.
Hero Card Design
TDS executed a last-minute Hero Card request for RAB Racing. The team had our design to the printer and their Hero Cards were delivered in less than 24 hours, just in time for the Daytona 500.
The Decal Source wraps graphics on Toyota Ferris Wheel Gondolas
The Decal Source wraps graphics on Toyota Ferris Wheel Gondolas for the brand promotions at the Toyota exhibit in Daytona. From the top, fans were able to see the track over the turn four wall.
South Fork Food Truck
TDS designed from scratch a logo and vehicle wrap for South Fork Food Truck. The wrap was a cost-effective way for this client to achieve a clean, modern look while boosting brand recognition.
Red Bull GRC Lites Car
Driven by Pedro Piquet, the #5 Global Rallycross Lites Car gets some serious air! This car, wrapped by TDS, is pictured at Nassau Veterans Memorial Coliseum in Uniondale, NY.
USA Men's Olympic Bobsled
The USA Men's Olympic Bobsled was printed by TDS. This bobsled features cutting-edge materials to decrease weight and drag and improve overall performance.